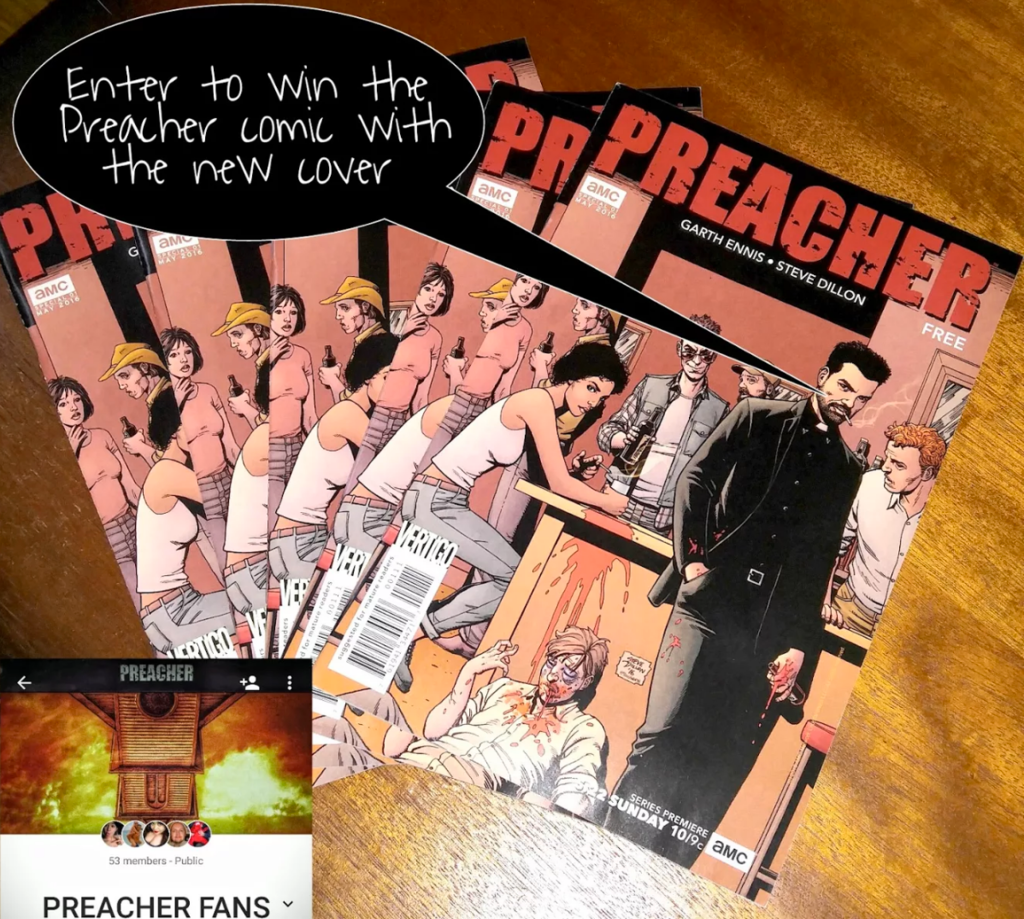 The fine folks at AMC and DC recently gave away 100,000 copies of the first Preacher issue by Garth Ennis and Steve Dillon. Steve Dillon re-drew the cover of the free issues so the actors likenesses would appear in place of the original three main characters' artwork. The copies were sent out May 18 to promote the new series which we all know aired last week May 22, and incidentally will repeat May 29 9/8C with Talking Preacher to follow.
Comic shops and book stores received the books to hand out to fans.  Some fans, like myself, were made to feel special by receiving the fantastic new editions via FedEx straight from AMC.
Not only did the fans have the opportunity to view an advance screening of the pilot episode in selected cities around the U.S., but also take home some pretty cool souvenirs such as cardboard Preacher coasters, a cardboard popcorn tub, and even fans (since church service was hot that evening).
What does any of this have to do with a contest? I decided to give them away!  For anyone who was not lucky enough to grab one of the free comic books, you still have a chance, before they're gone for good, except on Ebay for a price.  Because let's face it, nothing compares to having that paper in your hands, smelling the ink on the page, and hearing the pages rustle as you turn them.  Am I right?  Even the digital copies had an expiration date, May 23 to be exact according to our very own Genesis.
I am currently running a second chance contest.  The second chance contest starts midnight May 28, 2016 and ends midnight July 4, 2016.  To enter, simply tell me why you like Preacher and why you should win.  You can share that tidbit here in the comments section below or visit AMC's Preacher Fans-Community-Google Plus, join the community and post your comment there. That's it!
Four winners will each take home a copy of the Preacher #1 reprint comic and one of the exclusive memorabilia fans passed out at the show, pictured here. Winners will be announced and contacted at the conclusion of the contest. Good luck everyone!