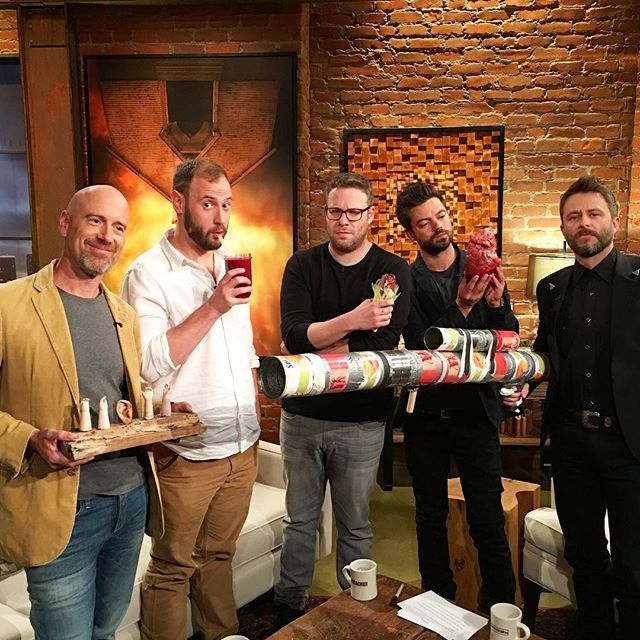 I have always loved watching "Talking Bad" and "Talking Dead", and now I am thrilled they have a "Talking Preacher".  If you haven't seen this new show that follows Preacher on AMC, you should definitely consider staying up for it or watch it the next day on your preferred media method. The show Sunday night provided good insight into the characters, discussion with producers and writers, cast interviews, and even a sneak preview into the next episode.  The show also asks questions sent in by fans, if you are lucky enough to have your questions chosen.  The host is Chris Hardwick, who is pretty funny with his little comedic insertions.  He asks his guests questions and hopefully gets an answer that might be a glimpse into the show's psyche.  His guests Sunday night were (Executive Producer) Sam Catlin, (Producer) Evan Goldberg, (Producer) Seth Rogen, and (Actor) Dominic Cooper who plays Jesse Custer.
You can watch the first episode of Talking Preacher on AMC.com with a login. Alternatively, there are a couple of cool clips from the show posted on the official site as well, one of which is embedded below…
Questions
As the questions were posed, the answers came pouring out of our guests' respective mouths:
So what was the biggest challenge to making the comic into a show?  Sam Catlin chimed in that the challenge was to figure out where to start the show.  In the comics they go all over the world with so many different characters, and that would pose a budgeting problem. Can you imagine having to foot the bill on that?  In the comics, Ennis goes from 500 miles per hour then goes to 900 miles per hour!
They also mentioned that they wanted Jesse to actually be a preacher.  In the comics, he was never really shown being one.  I mean, the name of the comics and show is Preacher, so why not show him being a preacher? -exclaimed Seth Rogen.
Other highlights?
This is the first time anyone has done a complete adaptation.  Seeing the characters walking around, interacting is absolutely terrific.  Seeing Jesse giving a sermon, and seeing Cassidy laying in a pool of his own guts, cursing and spitting; it's just been brilliant.-Garth Ennis
To which Joe Gilgun proclaimed:
Thank God for that cow!
Slow Going
It seems some fans are miffed, feeling the pace of the story thus far has been a little too slow.  I personally like the fact they are taking the time to delve into each character.  I want to know what makes them who they are. How did they each become who they are?  You can't just throw an Arseface face in your face, so to speak, and not take the time to show how he got that way.  Sam Catlin explained in the show that they wanted to give everyone a really big, dynamic entrance.
Dominic Cooper took the time to provide good insight into his casting. Turns out he doesn't know why he was cast as Preacher's Jesse Custer.  He mentioned he saw the script laying around at a friend's house and stole it.  He read it, desperately sought after Seth Rogen to ask for the part, and couldn't believe when he actually got it.  I know why you were hired Dom…
Work hard, help others, preach the gospel – Jesse Custer
Dominic Cooper may not know why he is who he is, but he knows why Arseface is there for Jesse.  Dominic said that Arseface exposes the void in Jesse's character.  He exposes everything Jesse's feeling, the lack of faith and loss, the existence of God in his life.
How's this for interesting? Writer Garth Ennis explained why he chose the name Jesse Custer for his main character's name in his books.  Jesse Custer is actually an anagram for Secret Jesus. There are so many hidden gems scattered throughout the story that they're easy to miss.  This is exactly what Talking Preacher helps discover.
Another comparison was made by Sam Catlin, who proclaimed Annville to be a kin to "The Island of Misfit Toys" in the Christmas cartoon "Rudolf The Red Nosed Reindeer." Catlin went on to say that there's something about the power of conflict within Jesse.  Isn't this power struggle in all of us though?  We all have a bit of good and evil within our souls with some having more evil, some more good.